April 1973 - August 1990
Our Sandy was a gift. After my very first dog Vixen
died, a sweet Shepherd-Collie mix, I prayed to God to
send a special fur friend in our lives to love and
cherish. A couple of days later, we received a phone
call from a friend whom my husband Jim worked with,
saying that they could no longer keep their Sheltie
puppy and were wondering if we would be interested
in taking her. It was a glorious summer day, 8-5-73
and as we approached the drive up the hill to their
home I was anticipating and wondering what she would
be like and if she would like us. As I got out of
the car, this bundle of fur and all legs came running
toward us and buzzed circles around and around me,
with that Sheltie grin on her face. She was so
enthusiastic that she couldn't settle down. It was
as though she was waiting and expecting us to come
for her. From then on it was the three of us
.
We sang in the sunshine
We enjoyed puffy white clouded summer days,
canoeing on the Wisconsin River, and camping out on
the sand bars. No more than we laid out the beach
towels but here comes the puppy to tear them up. Sand
flew everywhere...in our food and drink. So the name
"Sweet Savage" had to go hence, Sandy became her name.
The memories linger on even today. Each Christmas
were packages under the tree for her and she knew
which ones they were. Sandy would pick out her gift
and tear each piece of wrapping paper methodically
from the toy, and look at us raising a few barks of
glee. She knew when we sang Happy Birthdays for our
nieces and nephews, which was a special occasion, she
would chime in and cheerfully add her version.
We had many a happy days under the sun.

Sandy never really showed her age until her 16th
year when she had glaucoma and we had to slow down
a little. We were blessed with another year with
her. In her last few weeks of life we knew that
the time was coming near when she would be leaving
us. One night, a week before her death, she woke
up from a quiet sleep and let out a yelp. She had
never done this before. It was if she was saying no,
I am not ready. On August 5, 1990 we had to make the
hardest decision of our lives. Her passing was quick.
We wanted to say one more goodbye as we held her paws
in our hands and tears streamed down our faces...we
knew she was gone. We apologized for sending her to
the "Rainbow Bridge", but because we loved her, it
had to be that way. All the joy and the pleasure she
took in the present was gone, and the wind in her
face, and the sun in her eyes, with us, was over.
At home in our wooded acreage we wrapped her in a white
bed sheet with printed yellow roses, that she slept
with us on many a nights, and buried her on the crest
of a small hill that looks down over a creek which
meanders through the marshy grassland. This was where
she used to romp around. We cried as we buried our
friend, all alone, and our voices cracked as we sang
"Jesus Loves Me" and we walked up to the house in
silence, surrounded by all the memories of the past,
forever captured in our hearts, somewhere in time.

Little Dog
My little dog has gone to heaven...
Where she will forever stay...
and among the clouds with Angels...
Maybe now she in at play...
and I am sure that she is happy...
in such gentle company...
but shall miss her deeply daily...
and I fear there shall be tears...
through the coming lonely years...
My little dog was always with me...
in the day and through the night...
and she was a constant comfort...
and an endless great delight...
There nevermore can be another...
Though another one I choose...
who will ever dance around me...
with my heart upon her nose.

Author Unknown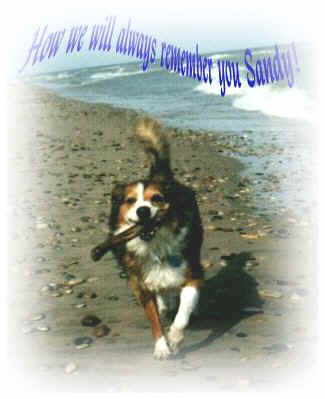 OUR SANDY A RAY OF SUNSHINE,

A RADIANT STAR GLOWING IN THE DARK,
WE FOUND A SOLACE IN HER HEART
OUR LINK TO PARADISE, OUR KINDRED SPIRIT

Written by Lorraine Harnwell



Sandy will live forever in our hearts...